Children's Takeover at Kingston University
On this very unique day as part of The Misplaced Museum the children of St John's Primary school and local families took part in the Somnambulant Detective's adventure at Kingston University. The children were recruited as Somnambulant Detectives (also known as Sleepwalking Detectives) by first tiptoeing into the Misplaced Museum and lying down until they fell fast asleep and woke up in the dream world!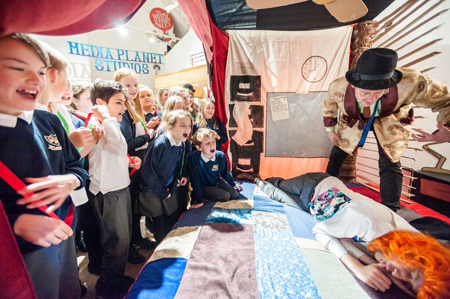 The Somnambulant Detectives are known for sleeping in… but the new recruits were ready for an adventure and all sang together to wake up the last sleeping detective, known as Honey.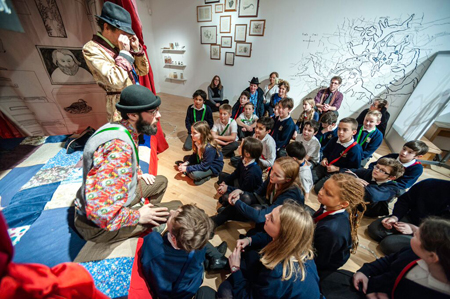 The mystery was unveiling piece by piece but so many stories were yet to come… it was up to the Somnambulant Detectives to piece together the mysteries of the dream world. The group split into teams and went to investigate the secrets of Kingston University to find clues.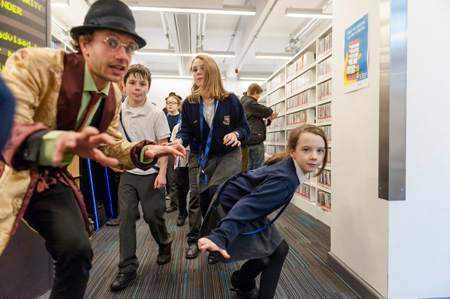 As the groups scoured the university for clues the blue team were tiptoeing as quietly as possible through the university library being careful not to disturb any giants reading in the dream world.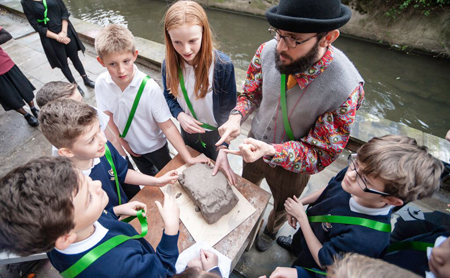 The green team, led by Oliver Goodname had made their way through the 3D rooms in the college, meeting characters along the way all possible evidence and clues for the mystery. They had found a lump of clay which was perfect for making dream evidence in.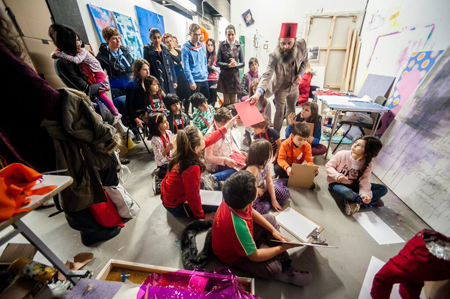 Meanwhile, the red team had encountered Reginald Brill, a famous character from Kingston past. He told all about a story of how his red trousers were found swimming in the river! The group made red trouser collages as evidence to take back to the other detectives.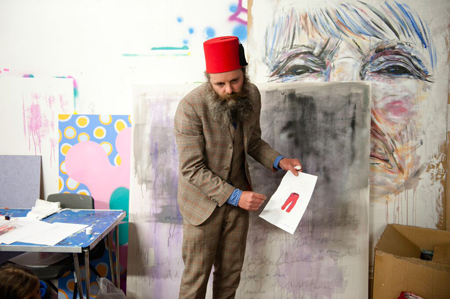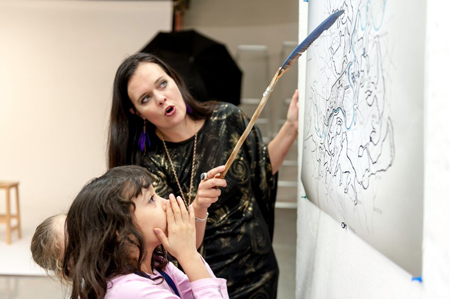 Upstairs in the photography studios the mystical Zodiac Queen told all the magical mythology of Kingston's zodiac map. The groups discovered their star sign and many mysteries about the stars in the outer universe.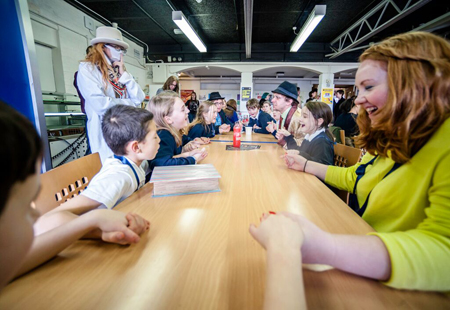 Back to the blue team… the group had gathered together in the canteen to speak to the medical student from St Thomas Hospital who once had used this canteen during World War II as safe storage for organs and specimens. The Medical Student needed the Somnambulant Detectives help to retrieve a brain stuck in the vending machine!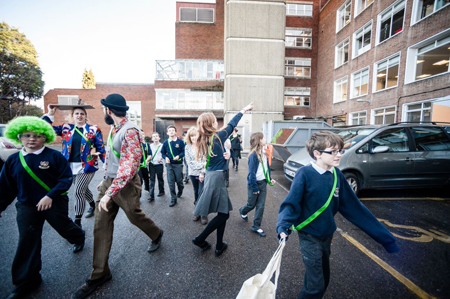 Clues and evidence were found and gathered all around the University and the teams made their way back to the Somnambulant Detectives Office to put all the pieces of the mystery together.
The Somnambulant Detectives from St John's School completed their Misplaced Museum Takeover adventure! They each discovered stories, invented mysteries and acted mythologies whilst exploring the magical Kingston University.
—–
The Children's Adventure Takeover day was designed by Oliver Wallace. Artists involved were Victoria Willmott, Alice Devine, Robin Clyfan, Charlie Partridge, Dez Kay, Jacqueline Haigh, Deborah Curtis, Gavin Turk, Buffy Cook, Pierre Turle, Curtis Turk and students Shu Ting and Fekry.
The House of Fairy Tales Misplaced Museum, 40 years of Kingston at Stanley Picker Gallery 4 Feb 2015 – 28 March 2015
Photos courtesy of Ezzidin Alwan, Kingston University