The Misplaced Museum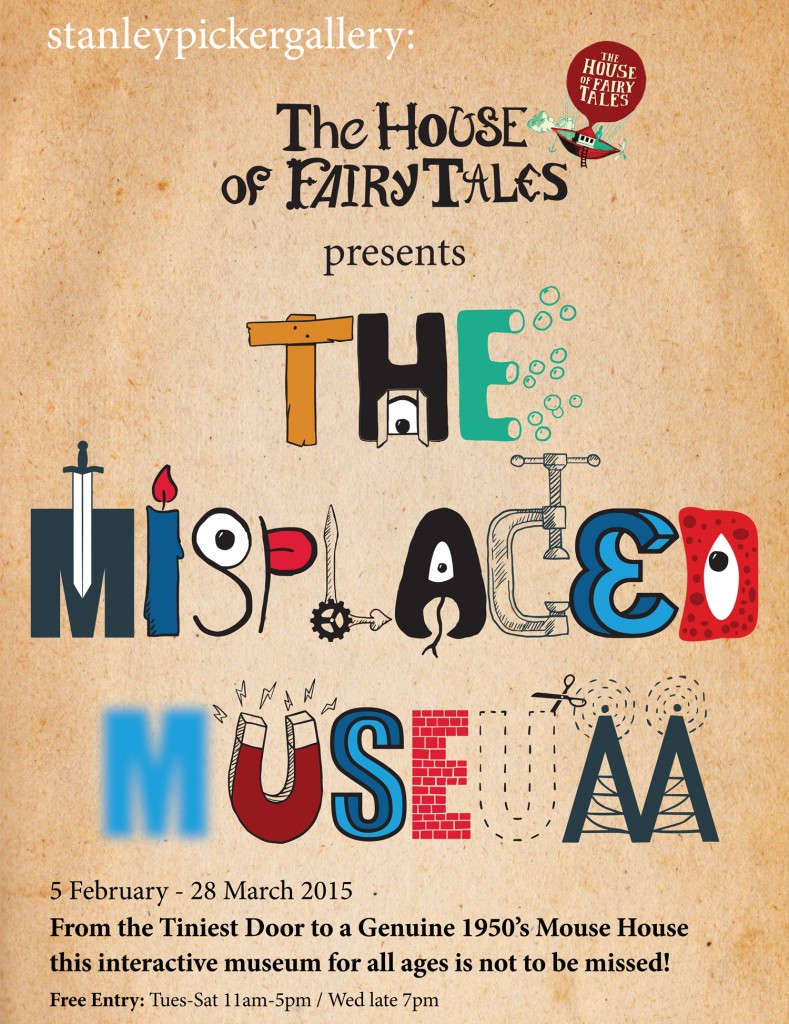 Come and help the Somnambulant Detectives find the clues to solve the mysteries of The Misplaced Museum at the theatrical opening event Wednesday 4th February from 6pm-8.30pm at The Stanley Picker Gallery, Kingston School of Art, Knights Park, Kingston-upon-Thames.
This playful interactive exhibition will be on until the 28th of March 2015 as part of a series of exhibitions celebrating 140 years of Kingston School of Art.
In the Misplaced Museum you will find extraordinary artworks, miniature artefacts and immersive worlds. Here's a glimpse of what you can expect…
The Somnambulant Detective Bureau. Investigate the clues and the mysteries of the dream world with the sleepwalking detectives. Conjured up by the brains of Oliver Wallace, MA History of Art and Creative Practice MA students.
L'Age D'Or. Multi-linguistic word play in Painted bronze by our resident artist Gavin Turk. Take your imagination through the metaphorical House of Fairy Tales door, travel through time and space and explore the magic all around us.
The Media Planet. Brought to you in extra-terrestrial definition from all dimensions of the universe is The House of Fairy Tales media archive with special features and clips. As well as special guests on the Media Stage.
The Optic Bench. Discover the power of light at Olaf The Lofty, the eccentric inventors's, workshop bench. Designed by Mark Bayley.
Miniature Museums. Visit the extraordinary museum pieces collected from far and wide by our favourite explorium of natural wonderment, The Curiovan. Step into the child's mind and imagine a museum of you. Thanks to year 6 & 7 children from St John's Primary School, Kingston.
Cabaret Mechanical Theatre. Feast your eyes on the marvellous automata pieces with exhibits from Keith Newstead, Ron Ruller, Peter Markey, Fi Hensall and Matt Smith.
Jennifer Binnie Painted TVs. Delve into the memories of Kingston from old Kingston markets to roaming deers in the park. See some unseen early footage of Grayson Perry at play in Kingston.
Kingston Zodiac. Explore this curious mythology with illustrations by Joshua Knowles and BA Illustration students, inspired by the work of Mary Caine
The Lost Voyage of Theodore Allen. Discover the mysteries, specimens and objects from the active imagination of artist Sam Brzeski.
The Magical Wardrobe. Enter through the secret wardrobe and immerse yourself in the magical crochet world of recycled rubbish. Crafted by Anna Kompaniets and crochet plastic-eers from Foundation Diploma and BA Fine Art.
The Mouse House. Be beguiled by our living sculpture by Artist Dmitri Galitzine which has travelled with us through time and space and all 15 dimensions for the past 6 years.
Enter the Portal … Special guests over the course of the exhibition will include Fiona Banner, Rod Dickenson and Stafford Schmool.