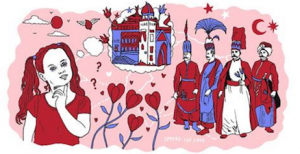 Have you ever wished …
… that your school could be more creative and inspiring?
… that the day could be more cross curricular?
… that students could take more charge of their own learning,
following their interests, talents and abilities?
… that students' experience in school was more relevant to their futuure lives?
… that it was possible to learn science through art and music through maths,
history through physical exercise and vice versa?
… that you could teach your studets to occasionally fail gloriously,
instead of always succeed with mediocrity?
Have you ever wanted …
… to throw away the constraints of the curriculum for a day?
If the answer to any of these is 'yes' …
then your school should take part in…
The Great Turkish Tulip Challenge
…a glorious experiment for schools near The Bowes Museum
What is The Great Turkish Tulip Challenge?
The Great Turkish Tulip Challenge is a fun cross-curricular educational programme and competition resulting in 2 exhibitions of pupils' works at The Bowes Museum (County Durham) and Southbank (London) as well as online. The focus of the project is supporting children and teachers in being brave and curious. See more in the project brochure.
 What will students learn in The Great Turkish Tulips Challenge?
Turkish Tulips is a fascinating project exploring the history, geography, economics, science and philosophy of Europe, the Middle East and Asia. Spanning all the curriculum subjects, the metaphor of this simple but symbolic flower follows the Silk Road trade routes established between the Chinese, Persian, Indian and Roman empires, focuses on the incredible popularity of tulips during the Ottoman Empire and examines their arrival into Europe during the Dutch Golden Age, moving on to consider globalisation, migration and associated ecological and environmental challenges.
Schools Training Day information (17 October at The Bowes Museum, optional)
Led by our national level artist educators and story tellers Oliver Wallace https://oliverwallace.com/ and Tim Godwin from The Thrift Musical Theatre.
We will be bringing a best artists who have a wealth of experience of super accelerating children's capacity to be brave and curious and who work with and care passionately about education. We will be hosting a playful and brilliant day of action. We will be exercising our capacities for being brave and curious collaborators. See here.
Project Practicalities Information Sheet
Turkish Tulips newspaper
Download our newspaper that all our learning materials are based on here.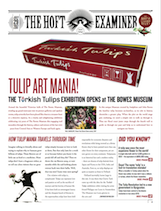 REGISTERING YOUR INTEREST:
Schools registration survey: CLICK HERE. You can also notify us of your interest via email tulips@houseoffairytales.org
Exhibition and workshops of creative responses to the story of Turkish Tulips
We are inviting children, young people and their teachers to explore these ideas through a diverse array of material and then make a creative response to what they have just investigated.
Artist-led workshops for classes from some schools to develop their creative works (classes selected by artists on the basis of their interest, 23 March
Exhibition of students' creative responses launched at The Bowes Museum (on 23 March 2018)
Web exhibition of students' creative responses launched (on 23 March 2018)
Once these have been developed into plays, puppet shows, films, exhibitions, musical compositions, engineering models, etc., they will be selected for national exhibition spaces as well as presented in the schools themselves.
Who can participate in The Great Turkish Tulips Challenge?
Primary Schools: We invite schools in the 50 mile radius from The Bowes Museum to participate.
Pupils: The project's focus in on pupils from year 1 to 6. We have made the decision to no longer take applications from secondary schools and to focus on the primary school offer.
Teachers: The educational programme will be delivered by the teachers of the schools participating in the project. The House of Fairy Tales provides training for the teachers.
Timeline:
July 29 – Turkish Tulips Exhibition opens at The Bowes Museum, County Durham (not a mandatory part of the project)
October 17 – CPD Training Day for teachers and school management
October 31 – Last date to register your interest at special introductory price
November 5 – Turkish Tulips exhibition closes at The Bowes Museum
5-9 March – The Great Turkish Tulip Challenge is run in schools
Early March – Schools submit pupils' creative responses to The Challenge
Spring 2018 – Creative responses displayed at The Bowes Museum and online, workshops and a very special end of project celebration
Cost:
£2.50 per pupil
CPD Training Day – £30 per teacher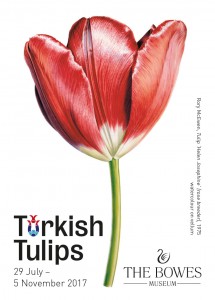 See also: The House of Fairy Tales's current Clockwork Garden Exhibition at The Bowes Museum